MAGNITO The Coin
Starting with 2010, a number of 2200 ''commercial-magnitos'' design objects were produced within "MAGNITO Commercial" project, limited series consisting of digital prints on forex (rigid PVC foam sheets) support, with magnetic foil on the back. The prints are photos after the original items of MAGNITO, digital art files or paintings on physical media, first exhibited in 2008 at the National Center of Dance Bucharest, within the conceptual art installation ''MAGNITO. Speculations on the edge of the refrigerator'' by Cătălina Liana Coșoiu.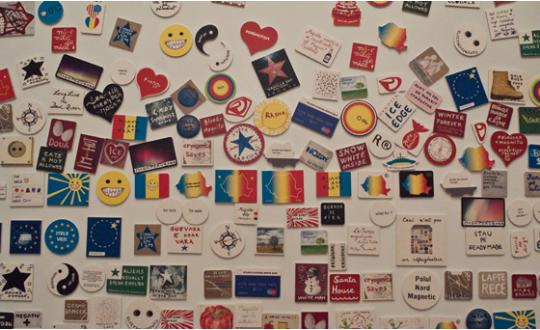 The commercial-magnitos were ordered by the author in limited series and have the footprint of the machine that produced them. No other work of this kind will be produced in the world from now on.
The collection of 2200 commercial-magnitos is a work consisting of 2200 ready-made pieces. This work is currently disseminated around the world, part of the series of magnitos belonging to people who bought objects from stores where they were sold (Cărturești, Orangerie, etc.) or to people who received them as gifts, and part is still a property of the author.
The total value of the work at this moment is 2200 x 30 lei (Romanian currency), a single object being worth 30 lei at this time.
Each object is considered a coin. Its value varies, for the time being, depending on the will of the author.
Made of a sort of plastic, these design objects should be preserved as conceptual art works and coins and should not be destroyed. They could be transformed in NFTs by the act of recycling the plastic they are made of. Another way of recycling them is to be included as ready-mades within other installations or to change their function as objects, but not waste them. By the act of destroying one of them, the big picture consisting in 2200 magnitos would lose some value and the world would be a little bit more polluted.
The philosophical implications of this conceptual art construct may be inferred by each one of us.
This work was partially exhibited within MAGNITO Commercial. Speculations on the edge of the art shop (2010), Blue Periodic (2013) and La vie en rose - Chapter I (2014), curated by Cătălina Liana Coșoiu and in Was Jetzt ?(2020), curated by Simona Tache and Pierre van Hulle.
---